The manner in which Gautam Gambhir's career took off in 2008, following an initial bedding-in period, is simply stated astronomical. As fans and selectors alike rode on his ascendancy, the diminutive batsman has only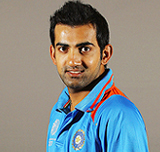 grown in metaphorical stature over the period of time to laud over rivals and contemporaries alike. Debuting in 2003, the left-hander remained in and around the fringes of the ODI side. After a 96 in only his third Test innings against South Africa in 2004, he reached his maiden ton against Bangladesh in the same year. An ODI hundred came almost a year later against Sri Lanka. Yet, in an Indian top order that underwent immense experimentation between Ganguly, Sehwag, Tendulkar and Dravid; Gambhir always floated around the periphery. The same unsettled top order was a part of India's poor showing in the 2007 World Cup, in which Gambhir didn't feature. He returned as a part of the young Indian side that won the inaugural ICC World Twenty20 the same year. It started an ascendancy of orbital proportions for both India and Gambhir. After being given an extended opportunity to partner Sehwag in both forms of the game, every second outing in either format was graced, at minimum, with a half-century. It culminated in the destruction of various records, including one by the great Viv Richards. Gambhir was involved in India's first victory in New Zealand in four decades, in addition to his role in denying Australia bragging rights in the Border-Gavaskar trophy. Top that, there were the series victories against the touring Sri Lankan and English sides. The man they fondly call 'Gauti' excelled in these outings as he mastered the art of facing spin bowling and formed one half of what became one of the most dominating opening partnerships in modern cricket. He was part of the historic Indian team that won the ICC Cricket World Cup in 2011 and his solid contribution in the final against Sri Lanka will never be forgotten. Unfortunate to miss out on what could have been a memorable century, that knock of 97 will still rank highly as one of the best in World Cup history.

Fast Facts
Gautam Gambhir is the first Indian to score more than 300 runs in 4 consecutive Test series and 5 successive Test tons.

He was named as the ICC Test player for 2009.

Following his 68 against Bangladesh in 2010, Gambhir broke Viv Richard's record of the highest number of 50 + runs over a period of 11 back-to-back Tests.

Gambhir was India's top scorer in the 2007 ICC World T20, finishing with 227 runs. It was the second highest overall, behind Matthew Hayden's 265.

He is the first Indian to score 5 hundreds in 5 consecutive Tests.
​Stats:ODI

Edit
Runs:4808,Matches:132,Highest:150*.